This spring a group of five Ukrainian librarians visited USA as part of the collaborative program between Open World and ICEA.
The librarians arrived in Chicago late April and stayed in this area for about 10 days. During their stay they visited local libraries and book stores, learning new technologies and exchanging ideas.
The Ukrainian librarians visited Northwestern University Library, the Library of Ukrainian Consulate, the Schaumburg District Library, the public library in Chicago, the Botanical Garden library and a popular book store "Barnes and Nobles", American Library Association and others.
They learned about the system of exchange between libraries, the new system of book ordering and indexing and new ways of handling old and rare editions. Their schedule was full with meetings, but that's not the only experience their received. Because the delegates stayed with hosting families, each of them made new friends and got a little more familiar with American culture.
Delegate and facilitator names:
Bruy, Oksana Mykolayivna Assistant Director for Computerization, Scientific Library, National University "Kyiv-Mohyla Academy"

Huzh, Olena Viktorivna Head, "Window on America" Information Center; Senior Librarian, Department of foreign languages and literature, Volyn Regional Library named after Olena Pchilka

Shostko, Natalya Ivanivna Director, Kharkiv City Scientific Library

Sopina, Lina Mykolayivna Library Director, Verkhnyodniprovsk Central Regional Library (Dnipropetrovsk Oblast)

Tverda, Tetyana Avsylivna Director, Central City Library named after M.L. Kotsyubynskyy

Mazur, Nataliya Rudolfіvna Facilitator, Production manager/location coordinator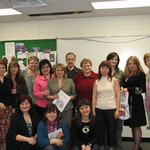 More photos in the Photo Album
The program was designed by Larisa Koval, PHD, president of ICEA, member of Ukrainian Academy of Science.
For more information and to participate in the similar program, please email:

larisa_koval@hotmail.com